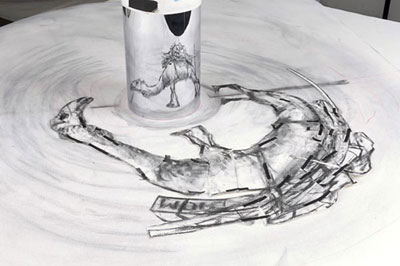 What will come (Has already come), 2007
35 mm-Film auf DVD, verspiegelter Edelstahlzylinder
Photo: John Hodgkiss
Animation films represent an important part of William Kentridge's work. For What will come, Kentridge adopted the old pictorial technique of anamorphosis. These distorted images can only be decoded from a specific angle of vision or, as in this case, using a reflecting metal cylinder. The subject of What will come, like many other films by Kentridge, is an interweave of memory and cultural identity, apartheid, colonialism and oppression. The main motif of the film is the armed conflict between fascist Italy and Ethiopia in 1935/36. Kentridge's dizzying round of images combines descriptions of war with visual metaphors like the whirling flight path of a bluebottle to create a parable about the links between colonialism, fascism and violence, and he warns us: those who do not remember history are damned to repeat it. The concept of »mourning work« coined by Sigmund Freud and Margarete Mitscherlich is central to Kentridge's work.
William Kentridge (born 1955) lives in Johannesburg.