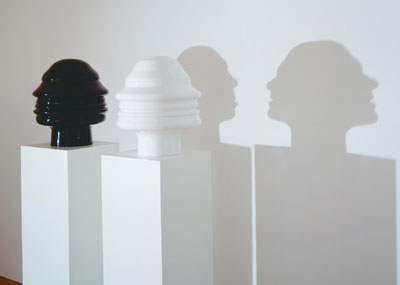 Spinning Heads (Drehköpfe), 2005
Bemalte Bronze, Tim (schwarz), Sue (weiß)
Courtesy Tim Noble, Sue Webster und Gagosian Gallery, London
These busts of the artist couple Tim Noble and Sue Webster are hybrids somewhere between the two-faced Janus and a three-dimensional portrait. Noble's double head is made in black material, and that of Webster is white. All distortion is lost in the shadows; the shadow image of the two heads is thrown onto the wall using a source of electric light, and it appears with natural proportions in the projection.
Precursors to the work can be found in the so-called "jouets séditieux", which were popular as party games in France around 1700. Small, curved and apparently abstract wooden figures only revealed their hidden identity or nature in shadow contours, produced by flickering sources of light at that time: they became the profiles of famous personalities. The pieces of a game of chess produced in France around 1810 are well-known; in shadow, the outlines of both pawns and bishops represent a portrait of Napoleon.
Tim Noble (born 1966) and Sue Webster (born 1967) live in London.