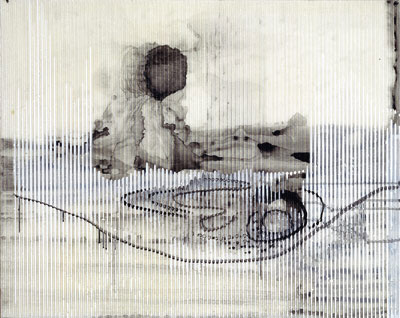 Ein Konflikt liegt bereits lange zurück, 2007
Linsenbild, Acryl auf Stoff
Sammlung Lambrecht-Schadeberg / Rubenspreisträger der Stadt Siegen, Museum für Gegenwartskunst Siegen, Photo: Wolfgang Morell
Sigmar Polke's picture with the mysterious title A conflict is already in the past is one of the artist's most recent works, which owe their secret to his use of the `lenticular`. The lenticular refracts light in different directions so that the image underneath becomes unstable, ambiguous and spatially confusing. We are familiar with `seesaw` pictures and their astonishing three-dimensional effects that reveal a different image according to our angle of vision; in the Baroque era there were also two way and three way images, which experienced a revival in the period of Op Art. In the case of A conflict is already in the past a layer of transparent structural gel is pasted over a painting of a grisaille-landscape on canvas and rippled using a kind of comb so that the gel hardens in this form. The picture – a delicate watercolour with fine shading and brushstrokes – thus appears oddly removed. The geological surfaces develop the structure of a living being, with traits of an anthropomorphic landscape in a baroque puzzle picture. But the transparent rippled layer creates another advantage for the painter, who is playing with the optical illusion. With the help of the lenticular he is able to paint more layers over the image. In this case there are different applications of paint; one that adopts the vertical direction of the structure – there is white paint in the ridges that creates a veil – and one that spreads across the structure – dark, ribbon-shaped, curving brushstrokes. The slightly shining, millimetre-thin transparent layer creates an in-between, an above or perhaps a below that is extremely difficult to pinpoint. The image reveals and then conceals itself, first attracting and then evading us.
Sigmar Polke (born 1941) lives in Cologne.