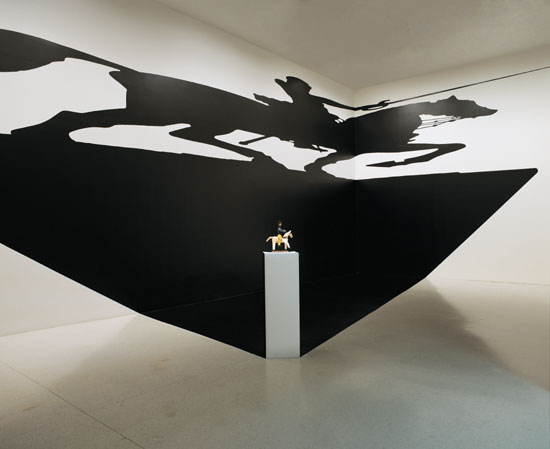 The Saint's Paradox (Das Paradox des Heiligen), 1994
Installation mit Holzfigur und haftendem Vinylscherenschnitt
Courtesy Regina Silveira und MAC/USP Collection Museum of Contemporary Art / University of Sao Paulo, Photo: Mauro Restiffe.
To produce The Saint's Paradox, Regina Silveira combined two elements from two cultural contexts. A small folkloristic wooden figure on a pedestal – representing the Apostle James – throws a huge, distorted shadow. But it is not the shadow of the small figure; instead, we recognise the form of an heroic equestrian statue. This portrays the Prince of Caxias, commander in the Triple Alliance War between Brazil, the Argentine and Uruguay from 1864-1870. This war is considered the bloodiest conflict in Latin American history. Now Silveira combines the distorted shadow of the war hero with the holy figure of the apostle, who is the patron saint of the Spanish military. The spatial collage relates two topographically, historically and artistically divergent figures in a paradoxical manner. The shadow and the object that supposedly throws it are connected by a double absence: the figure lacks its correct shadow, and the shadow is no longer attached to the object of its origins. The effect of the huge shadow is both monstrous and grotesque, since it also conjures Don Quixote's hopeless struggles.
Regina Silveira (born 1939) lives in São Paulo.