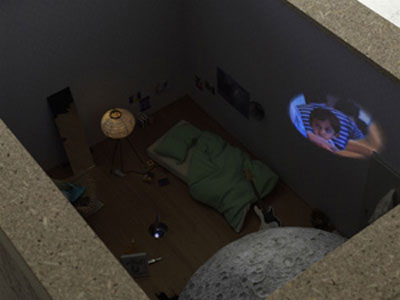 Deine Raumkapsel, 2006
Audio-Video-Installation, Holzkiste
Photos: Barbara Gerny
This work by Pipilotti Rist brings its own stable protective container into the art cosmos of the museum and exhibition business, in the shape of a roughly constructed, hip-high packing case. The wooden box is casually placed on a Euro pallet and is closed to the surrounding space and to viewers from the sides. It is only possible to look into it from above, as the lid has been removed from its anchorage and fixed – as a floating sky – to the ceiling of the exhibition space. Put in the position of a voyeur, the strolling exhibition visitor peers into this peep box. Here, he discovers the miniature world of an inhabited room: bed, armchair, standard lamp, mirror and personal effects. An open pizza box on the wooden floorboards gives the impression that the person living here has just left the room for a minute. To a background of meditative music and natural sounds, a video film shows alternating sequences of family images from a slightly distorted perspective.
In this work, Pipilotti Rist poetically combines the technical characteristics of the different media peep show and cinema.
Pipilotti Rist (born 1962) lives in Zurich and Neuenburg/Switzerland.