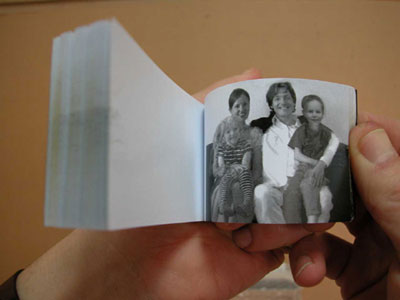 Miguel Rothschild: Die Familie Mustermann. Trauma eines alleinstehenden Künstlers, 2001/03
Installation mit 67 Daumenkinos
Various wooden elements can be found in the exhibition space: a model of a typical middle-class German house; the ground plan of a model apartment as a table-like pedestal; a partition resembling a building-site sign that names those working on the project like the credits at the end of a film, and other elements of facades and interiors on the walls. A photo showing an ordinary doorbell system for an apartment block completes the model like set-up. The tragicomic story of a family and an intruder is told in 67 black and white flip-books, which are scattered around the installation: the artist Rothschild intends to win back his lost love, Erika. But Erika is already living a perfect life with Egon, the man of her dreams; they have set up a home and now have two children. Of course this involves a relationship with Mr. Clean. The impoverished artist wants to put one over on Mr. Clean and free his former lover from her bourgeois paradise. Quarrels, counter blows and rebukes follow. At the end, the female protagonist falls from the balcony and we leave the story at the same time – the flip-book film is finished. All the elements of the installation can be packed into a case. The story is unpacked again at every new exhibition venue, and thus follows its eternally repetitive course.
Miguel Rothschild (born 1963) lives in Berlin.