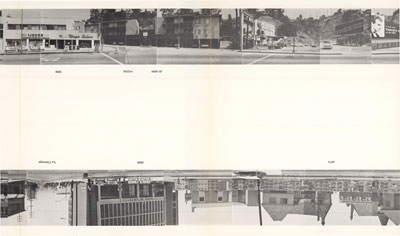 Every Building on the Sunset Strip (Jedes Gebäude auf dem Sunset Strip), 1965
Photobook
Sammlung Werner Nekes, Mülheim an der Ruhr
The photo book Every Building on the Sunset Strip depicts all the buildings on the right and left sides of the famous Sunset Boulevard in Los Angeles in a horizontal panorama. The two sides of the street are shown opposite to each other. In the spirit of the Concept Art of the 1960s, Ed Ruscha photographed every single house and then labelled the individual buildings with their house numbers and precise locations. Ruscha made use of photography in a deliberately non-artistic way for this project: he mounted a motor-driven Nikon camera onto the loading area of his pick-up truck and drove slowly along the street in both directions. The camera automatically pressed the shutter at regular intervals. Once developed, his black and white photographs are stuck together with no further processing. Ruscha simply accepted any jumps caused by cars driving past or minor shifts in the distance between lens and object, as well as tiny gaps caused by the direct adjacency of the motifs. The artist was concerned with documentation rather than attempting to create the same kind of illusion as the big immersive panoramic paintings of the 18th and 19th century. This was the case, although Sunset Strip - which links Hollywood to Beverly Hills and includes some famous clubs or hotels of the film business - would certainly have been a fitting subject for a colourful, large-format panorama image. By contrast, Ruscha's panorama was produced as a small-scale, black and white zigzag folder, more suitable for the drawer of an archive.
Ed Ruscha (born 1937) lives in Los Angeles.