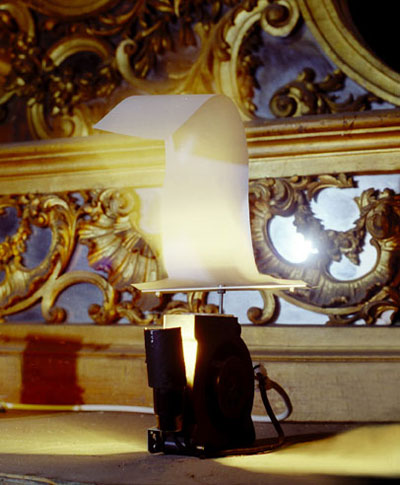 Paper Organs (Papierorgeln), 2000
Licht-Klang-Installation
Photos: Guy de Lacroix-Herpin
Pierre Bastien is a composer. Since 1986, he has been developing the Mecanium, an orchestra of mechanical or electrically driven musical automatons incorporating acoustic instruments from all over the world, from Bavarian brass to Nigerian drums. Bastien goes on tour with this orchestra, which now comprises 80 musical automatons. The paper organs in the exhibition Blickmaschinen are small sound sculptures that also perform a mechanical shadow theatre. The membrane of tracing paper is set in motion by bellows, flapping and crackling. Concentrated light sources transfer this motion as a flickering onto the wall. The visual and the acoustic complement one another, and the small apparatuses fill the whole room with their dramatic effects.
Pierre Bastien (born 1953) lives in Paris and Rotterdam.