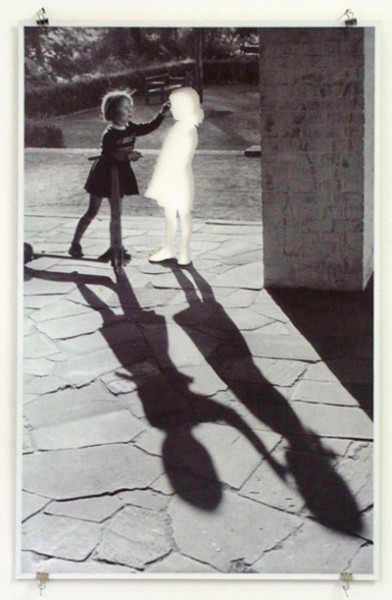 Zwei Mädchen, 1999
Fotografie, ausgeschnitten,
Courtesy Hans-Peter Feldmann und Konrad Fischer Galerie,© VG Bild-Kunst, Bonn 2008
In Feldmann's photograph, two little girls from different planes of reality encounter one another. The girl in motion, who may have just rolled up on her scooter, meets a radiant figure of light. This figure has been cut out of the image as a silhouette – that is, she apparently belongs to the material reality of the photograph and not to the reality that has been photographed. The girl on the scooter touches her on the head, suggesting that she is, after all, paradoxically embedded in this situation of a sunny afternoon in the sixties. In addition, both girls throw powerful shadows. Can a paranormal phenomenon, a glowing ghost, throw a shadow? It should surely outshine its surroundings. As a result, it is impossible to decide whether the girl on the scooter is only talking to an imaginary playfellow or even touching a white figure that is standing in front of her. The image remains ambivalent; fluctuating between disappearance and appearance, immateriality and reality. Just as the little girl encounters the ghost, the sunny day clashes with the »cool« modernist architecture, and the immaterial light – only noticeable through its reflection on objects – with the solid materiality of concrete and stone.
Hans-Peter Feldmann (born 1941) lives in Düsseldorf.