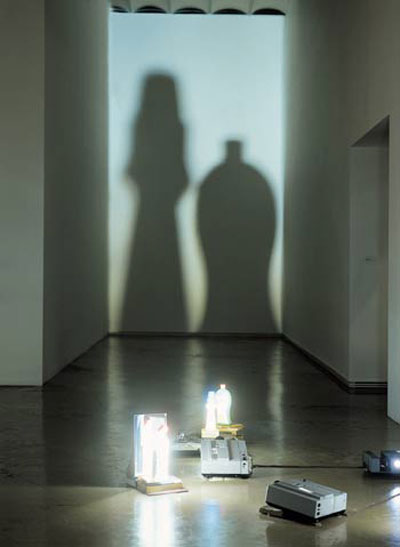 Envasos: el culte a la mare (Gefäße: der Mutterkult), 1996
Plastik, Papier und Objekte, Licht
Sammlung MACBA. Fundació Museu d'Art Contemporani de Barcelona. Donació del Taller de la Fundació
Eulália Valldosera uses simple objects to create an atmospheric situation. Two plastic bottles, refuse of our hygiene-obsessed society, are placed between slide projectors so that they throw enormous shadows onto the walls of the exhibition space. The projections of these cleaning fluid containers seem like an awe-inspiring duo, like two idols in an archaic temple. The projectors should be seen as metaphors – they do not project images; they are the medium of transference. The cult of the mother becomes a place of remembrance, of (psychological) transference and counter transference. Our shadows move about between the installation's objects, reflections and projections and so enter into a roleplay of expectancies. The viewer can experiment with his position, can imagine himself involved in cult rituals, for shadow projections were already integrated into religious festivals and ceremonies during antiquity. But the community of shadows is ephemeral; we are able to escape once again, at least temporarily, from the influence of this oversized subconscious.
Eulália Valldosera (born 1963) lives in Barcelona.