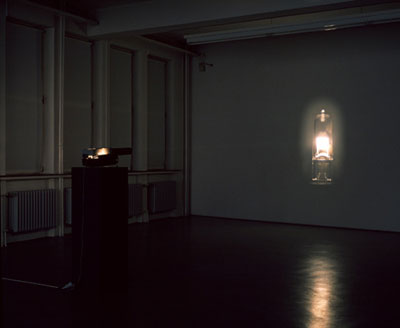 Glühbirne, 1994
Projektion
Installationsphoto: Dieter Kiessling, Courtesy Galerie Rolf Hengesbach
A slide projector employs the light of a projection bulb to project the same bulb's shape onto the wall (by means of a system of lenses and mirrors inside the apparatus, which the artist constructed). No picture carrier is inserted between the lens and the light bulb. The image shows the tiny lamp that emerges – immeasurably magnified – from the unseen but imagined, mysterious interior of the apparatus. The filaments vibrate almost imperceptibly – just as we hardly notice the breathing of a living creature. The finely formed glass bulb has the fragile beauty of a 17th century allegory of transience. Bulb is a reverential demonstration of optical laws and thus recalls some early depictions of laterna magica projections. All the images that were ever presented to an audience surface in our memories, only to disappear again and make way for emptiness: in this homage to analogue image production, the focus is on projection as a fundamental principle somewhere between magic and science.
Dieter Kiessling (born 1957) lives in Düsseldorf.